It was way back in 1990 when Mr. M. K. Bakshi (Founder , M.D.) conceived the idea of setting up a pharmaceutical manufacturing company after gaining considerable expertise in the business of chemicals and pharmaceuticals.
On February 21, 1991, his idea translated into a reality and saw the birth of Cradel Pharmaceutical Private Limited with its manufacturing unit at Pailan, on Diamond Harbour Road, near IIMC campus at Joka. Since then the Cradel has not looked back.
It entered into an agreement with Merck Limited (earstwhile E-Merck India Ltd.), to produce the Vitamin-B complex Syrup, namely 'Polybion' of the company. Today, it produces over 15 million bottles annually of this product, adding quite a few new items to its basket. Cradel has been able to take this relationship forward in the last two decades not only for the reason that it manufactures Merck's products maintaining the highest levels of quality standards but also due to the confidence reposed on us by Merck.
In the year 1996 the company had approached the State's Drug Control to obtain the good manufacturing practice (GMP) certification and after stringent checking and recheking of the manufacturing facility, the stringently maintained quality control measures and the over all facilities at factory, the inspection team of the state drug control Directorate awarded the company the cGMP certification. In the year 1998, the company also accolades with the WHO-GMP Certification for its overall quality consciousness and an all round merit in the production and documentation.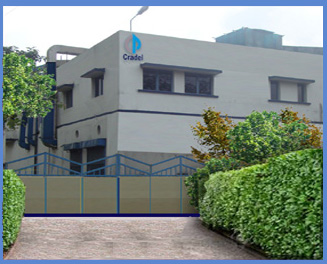 Cradel has a capacity to produce

25.00 Mio Bottles

and

10.00 Mio Sachets

per annum.
By choosing Cradel as your Contract Manufacturer, you are partnering with a company who not only ensures you quality product, but also gives you a financial advantage. The geographical location offers a major advantage in cutting down the costs on logistics and transport to the Eastern and North-Eastern markets as compared from any other parts of the country.